In celebration of the 200th anniversary of the birth of Charles Darwin, and the 150th anniversary of the publication of 'On the Origin of Species', the BBC is airing a season of landmark TV and radio programmes under the title
Darwin: The genius of evolution
.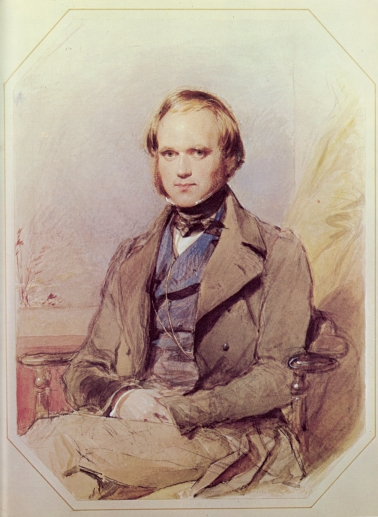 This week Radio 4 presents the series
Darwin: In our Time
which began today with the first programme
On the Origin of Charles Darwin
. Melvyn Bragg talks to Darwin biographer Jim Moore, UCL geneticist Steve Jones and Christ's College fellow David Norman, as well as college librarian Colin Higgins; to uncover Darwin's personal evolution from childhood through to Cambridge graduate.
The first in this series leads us through Darwin's troubled upbringing as the fifth child of a large and well-off family, to his escape from Edinburgh University after failing a medical degree, and on to his life at Cambridge training to be a clergyman, where he would be seemingly unimpressive at his studies.
Darwin entered Cambridge with every intention of becoming a clergyman of the Church of England, which would necessitate his signing of the 39 articles of the Church in order to graduate. Biology at this time was not much more than stamp collecting, and Darwin's beetle collection was one he took great pride in.
We learn of Darwin's development from mere beetle-watcher to entemologist to theoreticist; all while he takes on University life: tapping into his father's wallet, running up bills and skipping lectures to pursue vices such as drinking and shooting.
The Christ's College library
gives us insight into his personal growth through a vast collection of correspondances between Darwin and his close friend and cousin William Darwin Fox. We hear too of Darwin's university role-model, Professor Henslow, who introduced Darwin to plants and "Ecology" and opened his eyes to the presence of patterns in nature.
The programme also takes a geographical perspective leading the presenters and listener around the common haunts of Darwin's student life.
The
Darwin: In our Time
series promises to be a fascinating journey through what was a very difficult time for such revolutionary ideas.
The next in this series will see Darwin journey to South America on the Beagle voyage and will be broadcast on Radio 4 at 9am on Tuesday 6th January.
You can listen to
Darwin: In Our Time: On the Origin of Charles Darwin
online with the BBC iPlayer until next Monday, and further programmes in the series will also be available on the iPlayer over the next few weeks.
One to watch:
Darwin's Struggle: The Evolution of the Origin of Species
will be showing on BBC4 at 9pm on 2nd February. Produced by Jeremy Bristow of the BBC Natural History Unit.